Dates for your Diary:

We had previously advised you to save the date on Nov 26th 2021 for a regional event. We have taken the decision to postpone this until the spring as we do not feel the time is right yet for in-person events.

But one thing definitely going ahead in-person is the Playful Learning 2020 Conference (yes, the much delayed 2020 conference!) on 6th – 8th July 2022 at the University of Leicester. See the conference website for more information.
Call for Playtesters: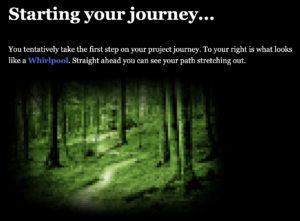 Do you design research or creative projects? Daisy has created a Choose Your Own Adventure which guides players through the different stages of project design and helps to improve rigour. It is particularly suitable for students or ECRs in Higher Education, but you may find something there for everyone!
You can play it here: https://daisyabbottitchio.itch.io/creative-thinking-quest and please consider contributing to the research study to help Daisy improve the quest.
Playful Writing?

Thinking of publishing your work on Playful Learning, check out the Journal of Play in Adulthood and contact the editor, our own Andrew Walsh if interested. While you're there you can browse through a new double special issue looking at the Playful Academic and Playful Designs.
—
If you missed the deadline to be included in this round-up, never fear! Contact Playful Learning on Twitter and we can include you next time!